3 Tips to Grow as a Leader: Advice From Executive Leaders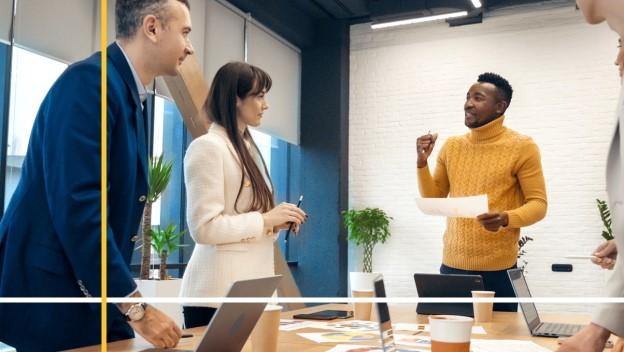 From established CEOs with courageous entrepreneurial beginnings to owners of startups sharing the hard work behind their growth, leaders face challenges on their business journey, but are ultimately successful due in part to their impactful leadership skills.
Business leaders from across the nation with diverse personal and professional backgrounds have joined the Enterprise Bank & Trust's podcast, Enterprise.ing®, as featured guests. One overarching quality in each of our podcast guests is that they are inspiring leaders.
Here are three tips from Enterprise.ing® guests who shared how they have become successful by investing in their leadership growth and development:
Eric Kaufmann, executive coach and CEO of Sagatica, shares how curiosity about yourself and others can deepen business relationships. Increasing awareness of your internal processes and biases can open up your mind, as well as business opportunities.
Through regular self-reflection and by showing genuine curiosity in others, leaders have the potential to see other perspectives and expand their world view.
"When you see the bigger world, you have more options, more choices, people get more engaged, you make better decisions [and] you drive better results," Eric says.
Broaden your understanding of self and of others to help guide diverse teams to success through conscious leadership.
Whether you are a business owner or a business professional, Keith Davenport, executive director of the Missouri Center for Employee Ownership, shares how shifting to an employee-owned business model and adopting an ownership mindset can uplift and unify teams.
In an employee-owned company, no one person holds a majority of shares or control over the organization. Even if your organization is not employee-owned, empowering employees to take on leadership roles — at any organizational level can create high-achieving teams.
Encourage your team to be proactive, take ownership of projects or processes, and share ideas by implementing employee ownership practices.
Throughout his career, Rob Adams, president and owner of Bishop McCann, has been motivated by one rule: nothing is impossible. This motto not only guided his professional journey, but helped others achieve their professional and personal goals.
Rob inspires professionals to grow in their careers by setting high expectations for themselves and by avoiding negative self talk. Telling yourself that you are capable of the professional opportunities that come your way can help jumpstart your career growth so you can rise to leadership positions.
Explore episodes covering leadership, networking, entrepreneurship and more by subscribing to Enterprise.ing podcast.