In 2019, we announced our collective investment of nearly a half million dollars to seven New Mexico nonprofit organizations through the Enterprise Bank & Trust Foundation over a three-year period. Now, two years into the three-year commitment, this investment has provided resources to the Santa Fe, Los Alamos and Albuquerque communities through a matching challenge, which matches dollar-for-dollar public contributions up to a set goal for each region.
In July 2021, we presented the Los Alamos Community Foundation with a second annual $50,000 check. The organization raised $100,000 in 24 months from community members, successfully meeting the goal for its Enterprise Bank & Trust Endowment, currently valued at $200,000. The Foundation uses the earnings to make grants to nonprofits in Los Alamos County. This spring, grants were awarded to nonprofits to support projects that improve their organization's long-term financial health.
"We are grateful to everyone in the community who has helped us meet this challenge," said David Izraelevitz, President of the Los Alamos Community Foundation. "We look forward to making grants to nonprofits in Los Alamos through this endowment for years to come."
In Albuquerque, Enterprise has nearly fulfilled our three-year pledge of $75,000 to the Ronald McDonald House, helping to fund its new business center and more, with $50,000 already contributed and $25,000 to be donated before the end of the year. 
In Santa Fe, Enterprise has continued the matching program with five organizations, including Communities In Schools, which was given its full $60,000 grant in two years instead of three due to the increased needs of the community during the pandemic.
Enterprise Bank & Trust presents Communities In Schools with a $30,000 check in 2020. (Sante Fe)
"The multi-year support from Enterprise Bank & Trust has allowed Communities In Schools to do the front-line work of providing critical basic needs to families while maintaining engagement with students—especially during these unusual and challenging times," said Julia Bergen, Executive Director of Communities In Schools.
Kids Kitchen, a joint venture between United Way of Santa Fe and The Food Depot, has received $40,000 of its $60,000 grant. The Santa Fe Children's Museum's grant is also on track with $20,000 out of $30,000 donated.
Another of the five organizations we partner with in Santa Fe, Assistance Dogs of the West, is ahead of schedule with $45,000 donated so far to continue supporting after-school and summer programs for children. Esperanza Shelter's first grant helped fund the "Seeds of Hope'' program, helping children overcome domestic abuse. Enterprise provided Esperanza its second $10,000 grant this year to help with pandemic-related projects and programs.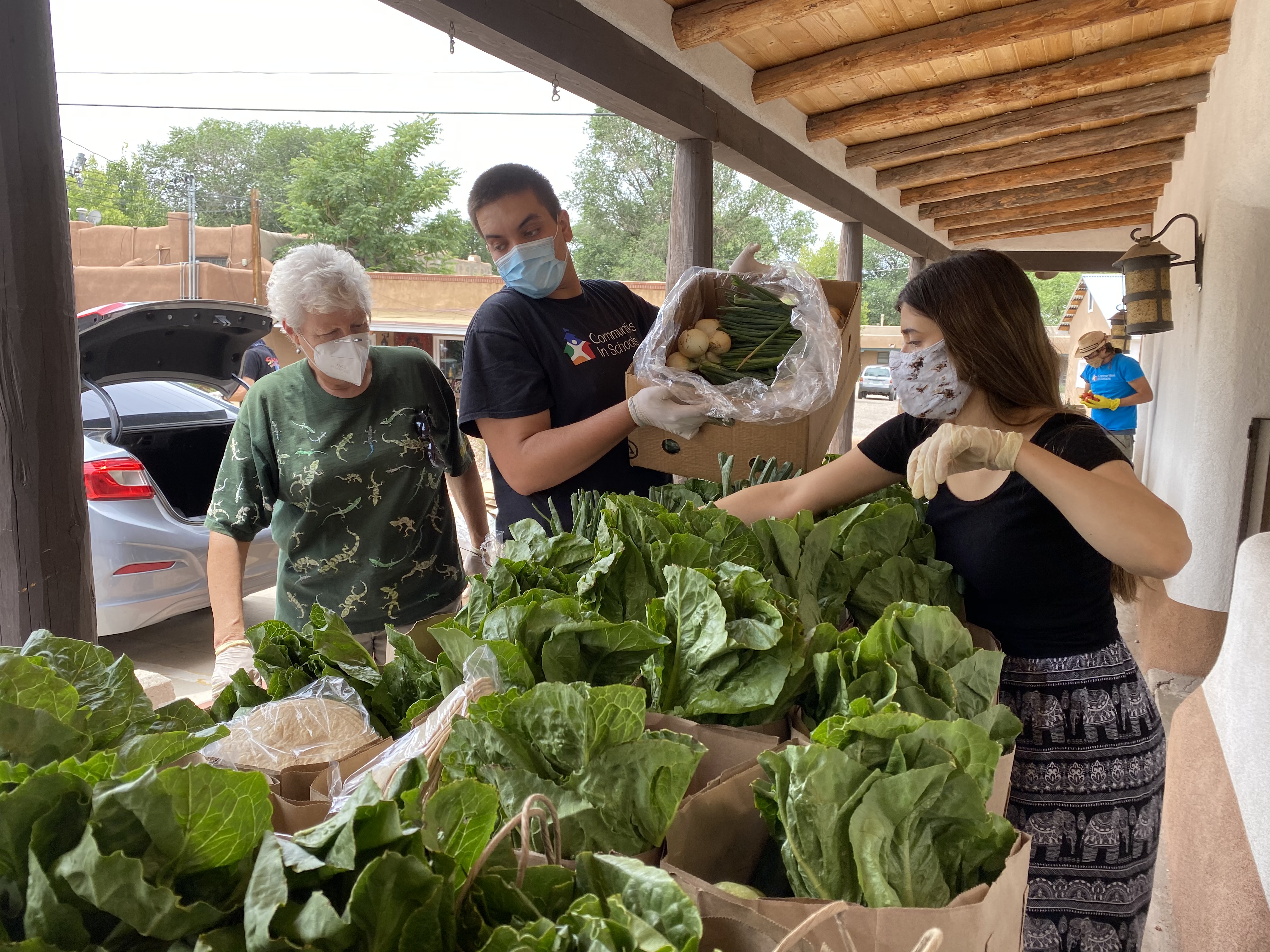 Enterprise Bank & Trust associates and members from Communities In Schools working together to pack food bags for families of children in public schools facing food insecurity in 2020. (Sante Fe)
"We are proud to serve these organizations that in turn serve children and families throughout New Mexico. The level of impact we can make as a community when we work together is remarkable," says Dion Silva, President of our Sante Fe region.
Enterprise has six full-service locations throughout New Mexico in Santa Fe, Los Alamos and Albuquerque, and our charitable giving impacts approximately 130 organizations in New Mexico each year. Enterprise is committed to providing resources to the communities in which we operate, throughout Arizona, California, Kansas, Missouri, Nevada and New Mexico. To learn more, visit our Community Partnerships webpage.