NMTCs Fuel Expansion to Help Disabled Individuals Live a More Independent Life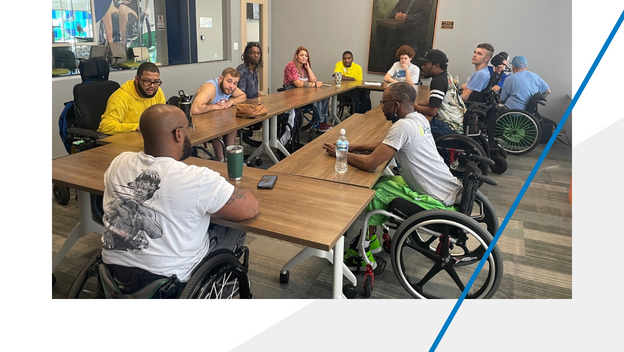 The New Markets Tax Credit is a federal funding program administered through the Community Development Financial Institutions Fund, a division of the U.S. Department of the Treasury. Enterprise Financial CDE is a community development entity that uses NMTC allocation to partner with businesses and community service providers committed to investing in eligible, highly distressed communities to improve economic development and quality of life for residents of underserved populations and low-income communities.
 
---
St. Louis, Mo.
Investment Date:
2016
EFCDE's NMTC Investment:
$4.5 million; total project: $16.5 million
Use of Funds:
Renovation of operations center and construction of 130,000-square-foot community facility/wellness center for
disabled community, plus onsite training café for culinary program
Outcomes:
The NMTC investments created 115
quality jobs and expanded Paraquad's capacity for serving individuals with disabilities.
For more than five decades, Paraquad has served as a champion of equity and independence for the disabled community in St. Louis by offering personal care and employment services, assistive technology, youth and family services. Thanks to New Markets Tax Credits (NMTC), individuals with disabilities are benefitting from expanded facilities designed to help them live more independently and with improved quality of life.
In addition to expansion and renovation of its operations hub, NMTC funds allowed Paraquad to build its 22,000-square-foot health and wellness center, modeled after two leading national centers. The facility, Stephen A. Orthwein Center, features state-of-the-art adaptive exercise equipment, including the best in robotics, and has attracted hosts of strategic community partnerships, including the Program in Occupational Therapy at Washington University, Logan University Health Center and American Parkinson Disease Association. It is the only facility of its kind within a several hundred-mile radius.
The center not only provides services for the disabled community, but is a strategic investment because of its revenue capability, explains Aimee Wehmeier, President of Paraquad. "The Orthwein Center helps us bring in additional revenue. Most of the services we provide are free for our participants, so the center will ultimately allow us to do more things and serve more people."
Along with its direct funding, the NMTC program served as a catalyst for additional investments. "Our NMTC funding expanded programming and attracted a sizable gift from a very generous donor family. The family helped us launch a special gifts campaign that is already doing great things for Paraquad — and great things for people with disabilities in St. Louis — and beyond," says Wehmeier. "This would not be possible without the initial injection of money and also the partnership to bring the services that were wanted and needed in the community."
NMTC also helped construct an onsite job training kitchen and social enterprise service café and complemented its existing job training program. As a social enterprise restaurant, Paraquad's cafe was designed to help people with disabilities prepare for employment. Not only this, but the entire Paraquad project created a total of 184 quality jobs between new construction jobs and those within the organization's staffing and tenants, as well as tripled its capacity for serving individuals with disabilities.
"Our partnership with Paraquad is just one example of what we mean by true 'investment' says Abigail Kepple, Enterprise Financial CDE's Executive Director. "Our team consulted with Paraquad leadership over several years to craft the right funding plan that would address the viability and growth needs for this critical non-profit organization that serves 2,000-plus people each year. We are as invested in their success as they are in their clients."
The interest-only and other flexible terms over the seven-year tax credit loan term proved essential to the organization when shifts in government funding and financial hardships such as the COVID-19 pandemic threatened the financial health and growth of Paraquad.
"Recent fluctuations in government funding have been pretty tough," says Wehmeier. "Our goal has been to maintain financial health, but we've had a lot of challenges riding the wave the last several years. That was one of the reasons we pursued NMTC. NMTC helped us become leaner and focus on the future and our sustainability."
In addition to changes in government funding, the pandemic posed additional challenges that NMTC helped the organization navigate and remain financially sustainable.
"We work with a population that was more affected by COVID-19. In addition, the service industry struggled across the country, and Bloom Café was no exception," says Wehmeier. Paraquad's in-person service café closed due to the pandemic, but its culinary training program remained active and is a vital part of its employment program. The vacant space was repurposed to support the expansion of Modern Brewery, a vibrant local business, while bringing additional revenue to Paraquad. The health and wellness center was open by appointment only and saw a loss of revenue, but now, "we are making more money than we ever did, bringing in more folks and having more impact on people with disabilities and older adults. We are improving their quality of life."
Wehmeier and her team are grateful for the role of NMTC and the impact the tax program has had on the future of Paraquad and the community it serves. "As more businesses are having conversations about economic equity and are struggling to find qualified employees, I am optimistic to think about what life can be like for people with disabilities," she says.
"It's hard to convey all of the benefits of the NMTC program. NMTC provided the flexibility of capital to deal with uncertain markets, and allowed us to do some really innovative programming. It allowed us to have a space that was welcoming and accessible for people with disabilities, and it gave us a little bit of room to dream. And, sometimes nonprofits don't have a lot of opportunity to do that," Wehmeier says. She also notes that the selection of partners is an important one.
"That being said, it's a complex process, and we did not know all the answers," Wehmeier says. There were points along the way I wasn't quite sure we would make it to the finish line, but Enterprise was there along the way, and we rode the waves together. We have learned a lot through the journey. We're doing things we need to do to be stronger, and we are coming out on the other side. Now, the forgivable piece is right around the corner. It made us a better organization."
"My advice for those considering NMTC is to do their homework. Everyone needs to explore what is the best solution for them. It's an opportunity to put the best minds together for the people you serve and for the community. Enterprise and our other funding partners saw our vision and invested in people with disabilities."