Fraud Trends to Watch for in 2021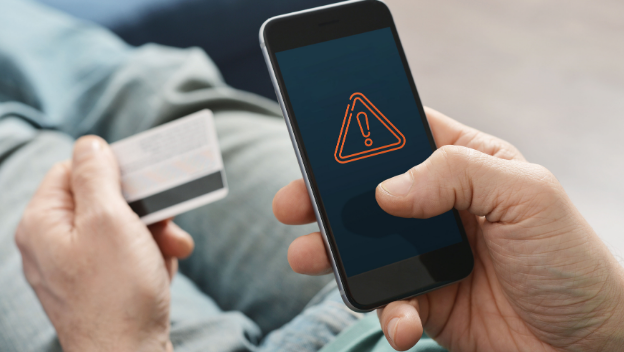 Drastic events and changes in the economy often result in an uptick in scams and the number of people falling for them. Since the pandemic began, 79% of certified fraud examiners have observed an increase in fraud as of November 2020, and 90% expect an increase in fraud over the next 12 months.
With more people than ever working from home, electronic fraud has become the most common type of fraud. Within the electronic category, there are many versions, such as debit and credit card fraud, Business Email Compromise (BEC), romance and job scams, and unemployment fraud. 
Debit and credit card fraud has increased with more people at home using the internet to shop for everything from shoes and school supplies to cleaning products and grocery staples. Once you search for a product, suddenly all sorts of ads start showing up for that product, tempting you to click on those ads to make your purchase. However, not all of these ads, and the websites they link to, are legitimate. You may order the shoes or school supplies and never receive them. 
BEC takes advantage of workers who are just trying to get things done and may not have the right person nearby to ask quickly. With a staggering increase in remote workers this past year, this has become quite common. For example, you get an email that appears to be from one of your business's vendors asking about a payment that is due and says they have a new account number to send it to. The email looks like the emails you usually receive invoices from, so you go ahead and wire out funds. The problem is that the email didn't come from the real vendor, it was a scammer. The scammer may have a very similar email address, maybe one letter is different from the vendor's or with an added dash or period. In some cases, the scammer could have even duplicated the vendor's email address. Once a wire transfer is sent, the likelihood of getting any funds back is very small. Businesses fall for this all the time, and according to the FBI, have lost hundreds of millions of dollars this way.
Romance and job scams take advantage of people looking for a job or a friend. Loneliness has hit people hard during the pandemic, and scammers know to look for people who just want companionship. Job scams often claim you will work from home, process payments or become a secret shopper. They tell you they need to send you money—they might even ask for your online banking login credentials or your account number so that they can pay you. Instead, they send you a counterfeit check, or wire you stolen funds from another scam. You may hear a sad story about legal trouble or an accident that has left this person needing money. The scammer will often tell you to "not tell your bank", which is part of the scam. A scammer may also ask you to purchase gift cards and read them the redemption codes from the card.
Unemployment fraud is extremely common, and a lot of people have unwittingly participated in it. These scams start when you apply for a loan or a job, and within the application answer a lot of standard application questions. However, the scammers then use this information to apply for unemployment benefits in your name, or use your account to process the fraudulently obtained funds.
Pandemic relief fraud includes emerging fraud attempts reported to the FTC that take advantage of business owners during the COVID-19 pandemic. Targets of this fraud receive an email that appears to come from the "Small Business Administration Office of Disaster Assistance." The email claims that the recipient is eligible for a loan of up to $250,000 and asks for personal information like date of birth and Social Security number. With this information, a scammer can go many different ways, not only financial fraud but identity theft as well.
Another emerging fraud similarly targets small business owners. Two popular SBA loan programs during the COVID-19 pandemic are the Paycheck Protection Program (PPP) and the Economic Injury Disaster Loan (EIDL) program. Some small business owners have reportedly received an EIDL statement, but did not apply for or receive an EIDL loan. This could be fraud. Most likely, fraudsters applied for EIDLs with the SBA, and were able to receive loan advances for up to $10,000 using businesses' tax ID numbers.
This scam would be especially problematic if you are also a PPP loan recipient when the time comes for the SBA to determine your final loan forgiveness amount. If an advance on an EIDL in your name was processed by the SBA, that dollar amount will be deducted from your PPP forgiveness amount and will be due to your loan provider. Banks do not have visibility into clients' disaster loans because EIDL agreements were processed directly between the business and the SBA. To proactively ensure that you have not been the victim of this fraud, contact the SBA Disaster Assistance hotline to speak with the SBA and find out if an EIDL has been processed in your name.
As vaccination efforts ramp up, scammers are taking advantage of rapidly changing COVID-19 vaccination information. Because vaccination distribution information is evolving and each state has its own distribution plan, it is easy for scammers to create believable stories and opportunities.
First, do not pay to sign up for the vaccine. Do not pay anyone who offers to make an appointment, reserve a dosage or put your name on a recipient list. The only credible sources for vaccination information are your healthcare provider, pharmacist, and local or state health department.
The same precautions you take against BEC and phone fraud can be applied to COVID-19 vaccine fraud, too. If you receive an unexpected email, phone call or text message claiming to help you get the vaccine, call the sender at a trusted phone number you have used before, or is published on their website, to verify the legitimacy of the message. Last, keep in mind that no one from a vaccine distribution site, healthcare provider or insurance company will contact you asking for sensitive personal information in order to sign you up to get the vaccine.
While fraudsters do their best to stay ahead, both technologically and creatively, remember that other types of fraud that have been around for a long time have not disappeared. There has been a recent uptick in telephone fraud, too. If you receive unusual calls or emails claiming to be from Enterprise and requesting your personal or account information, such as your online banking credentials, do not respond. Your bank will never request your personal information (e.g., account number, Social Security number, PIN, User ID, debit card number, passwords or any verification codes) through email, U.S. mail, live or automated phone call, or text message. Similarly, never respond to an email, phone call or text message requesting you to urgently activate or update an account. When in doubt about the legitimacy of any request like this, contact us immediately at (833) 896-2850.
But, banks are managing these new threats with tools and procedures that help better protect their clients.
At Enterprise, we work hard to help clients prevent fraud and educate them to spot potential scams and take measures to protect themselves. We have a dedicated team made up of fraud experts in prevention and investigations. We continuously educate our staff so that they can help spot possible fraud, and offer many fraud prevention services for businesses and retail clients, such as positive pay service for checks and ACH, and dual-control security options including multi-factor authentication for online banking. Additionally, you can find articles and information relevant to your accounts on our website and through online banking messages, so that you know what a suspicious email, link or URL could look like.
Business owners and individuals can take measures to protect themselves.
Scammers are not slowing down or taking vacations in 2021. Unfortunately, they will more likely take what they have learned in the past year and in today's cyber-focused work, school and shopping environment and continue to evolve in their practices and attempts. The best defense that a bank or financial institution can offer its clients is a cross-team effort. We foresee electronic/digital fraud and scams to remain the greatest risk, and they continue to advance in complexity and creativity. There are also some things you can do today to protect yourself and your business:
Do research on lenders and work directly with your banker to apply for an economic relief loan, especially as banks are processing PPP loans.
Check your credit report regularly to make sure no loans have been taken out in your name by a scammer.
Review your fraud prevention plans, lean on experts and ensure that employees and clients alike are well-educated on the matter.
For more fraud prevention tips, check out our Fraud Prevention Best Practices and our Fraud Prevention Checklist for business owners. For additional articles about fraud prevention and education materials, head to the fraud prevention section of our website.