Enterprise Bank & Trust Delivers Cheeriodicals Care Packages to Charity Partners in Nine Cities Nationwide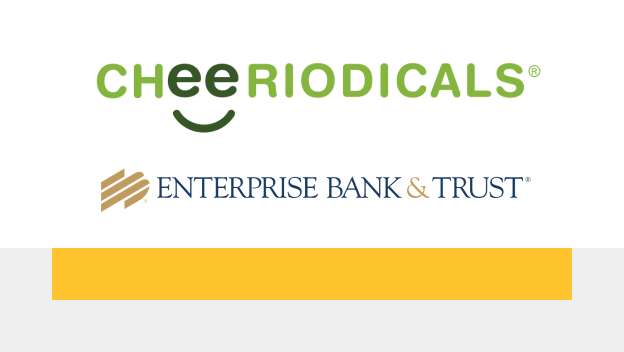 ST LOUIS, Mo. – Colleagues from Enterprise Bank & Trust came together with Cheeriodicals to assemble and deliver care packages for distribution to children and their families in need of a lift in spirits.
More than 100 employees from Enterprise came together to pack 744 Cheeriodicals care packages for delivery to nine charity partners nationwide. This large team volunteered their time and energy to not only assemble these cheer-up gifts, but also to include personal messages of inspiration and encouragement for each gift recipient.
The team's effort provided donations to pediatric patients in two hospitals: SSM Health Cardinal Glennon Children's Hospital in St. Louis and Scottish Rite for Children in Dallas. The team's work also benefited Ronald McDonald House Charities in Kansas City, Albuquerque, Los Angeles, Las Vegas, San Diego and Orlando, as well as Child Crisis Arizona with their donations.
The Cheeriodicals gift boxes and bags for pediatric hospital patients were created to bring joy during their hospital stays and contain age-appropriate magazines, activity books, puzzles, toys and the Cheeriodicals frog. The cheer-up boxes were designed to provide a dose of cheer to each pediatric recipient.
The Cheeriodicals for the Ronald McDonald Houses were customized to include a mix of gift boxes for hospitalized children along with personalized care bags for the caregivers of those patients. The caregiver gift bags were packed with convenience items, puzzle books, adult coloring books and magazines, among other items, to show these caregivers that someone in the community was thinking about them during this difficult time. The Cheeriodicals bags for the children at Child Crisis Arizona were designed and packed to include needed items to help children transition within the foster care and adoption system.
"Giving back to the communities we serve has been part of the Enterprise culture since our founding," says Jim Lally, President and CEO of Enterprise Financial Services Corp — the parent company of Enterprise Bank & Trust. "We found this experience to be particularly rewarding, knowing we are helping kids and families in such a time of need."
"We were excited to work with the Enterprise team again for this meaningful and impactful give-back opportunity," mentioned Gary Parisher, President of Cheeriodicals. "We worked with Enterprise in 2016 on a similar team building project that benefited hospitalized kids and their families in St. Louis, Kansas City and Phoenix. It was even more rewarding this year to see their growth in other national markets lead to Cheeriodicals donations in six additional cities nationwide."
After the Enterprise team packed all the Cheeriodicals cheer-up boxes and bags, Two Men and a Truck St. Louis arrived and loaded the gift boxes bound locally for Cardinal Glennon Children's Hospital and delivered them to the hospital free of charge as part of their own corporate social responsibility program. A group of Enterprise employees were on hand at the hospital to assist in the delivery and even present a few Cheeriodicals to some of the pediatric patients and their caregivers.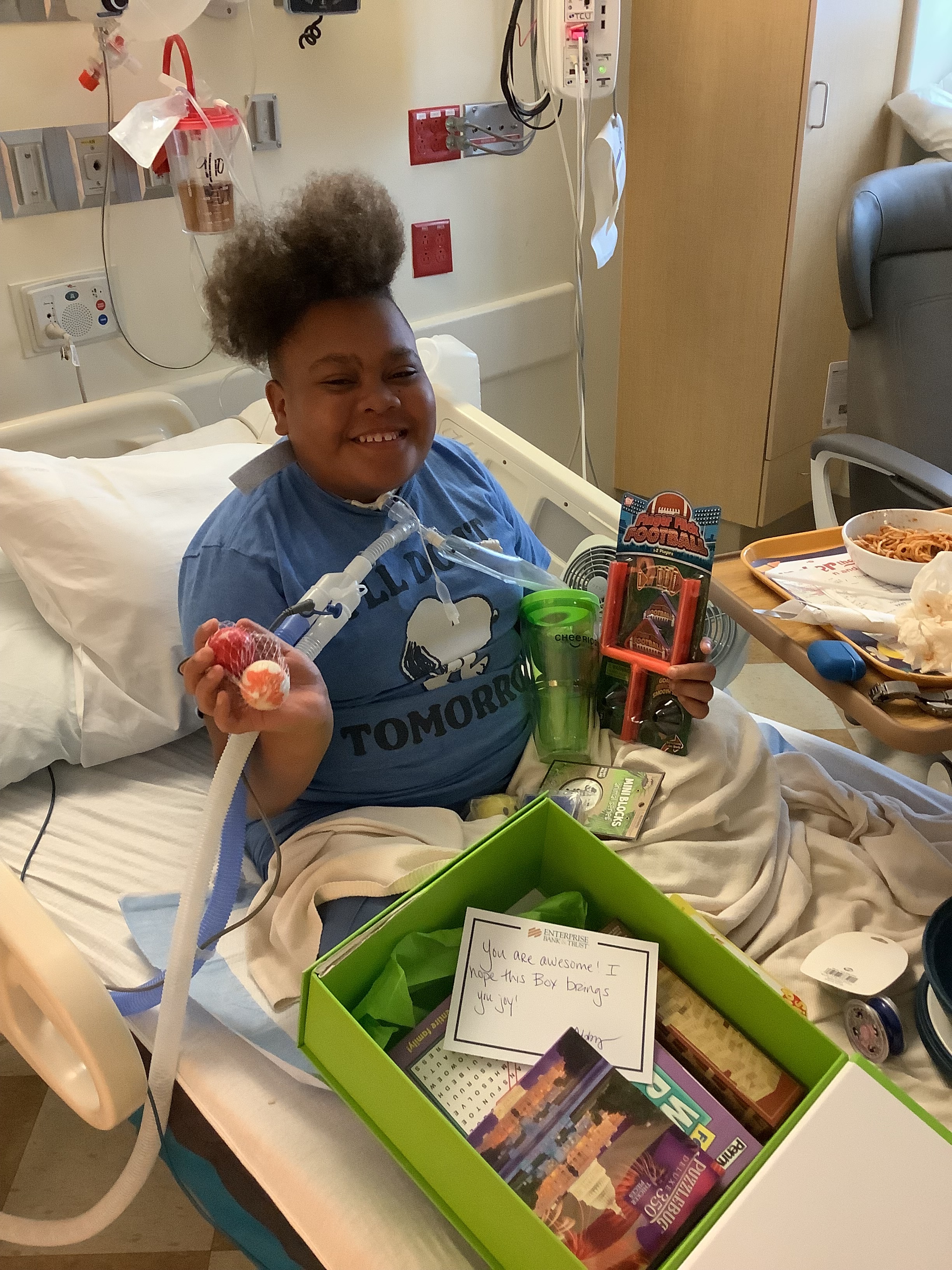 Photo courtesy of SSM Health Cardinal Glennon Children's Hospital.
For cities outside St. Louis, representatives from local Enterprise offices scheduled time with their respective charity recipients to deliver their donations. It was important for each of the teams to have the hands-on opportunity to execute the final step of delivering the Cheeriodicals in-person and seeing the smiles on the faces of the recipients.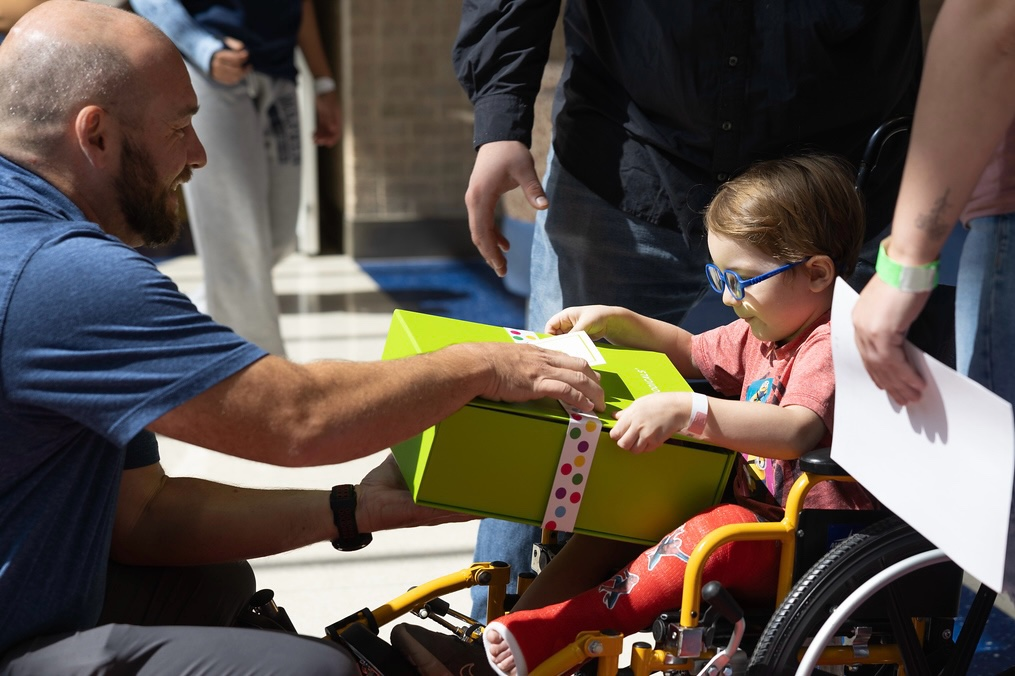 Photo courtesy of Scottish Rite for Children.
About Enterprise Bank & Trust
Enterprise Bank & Trust is a growing financial services partner focused on guiding people to a lifetime of financial success. We empower privately held businesses to succeed, helping families to secure their financial futures, and invest to advance the quality of life for the communities we serve. Enterprise is built on trusted, personal relationships and offers a range of business and personal banking services, wealth management services and a variety of specialized banking services. Enterprise Financial Services Corp (NASDAQ: EFSC), with approximately $13.9 billion in assets, is a financial holding company headquartered in Clayton, Missouri. Ranked No. 3 on Forbes' America's Best Banks 2023 list, Enterprise Bank & Trust operates more than 40 branch offices in Arizona, California, Kansas, Missouri, Nevada and New Mexico, and SBA loan and deposit production offices throughout the country. Additional information is available at www.enterprisebank.com. Member FDIC.
About Cheeriodicals
Cheeriodicals is a national corporate team building company that conducts in-person and virtual philanthropic events benefiting children's hospitals, Ronald McDonald Houses, Veterans Hospitals, the American Cancer Society and other charity groups. For more information about Cheeriodicals, visit our website, or follow Cheeriodicals on Facebook, Instagram and LinkedIn.
About SSM Health Cardinal Glennon Children's Hospital
At SSM Health Cardinal Glennon Children's Hospital, talented caregivers provide the very best health care, living out our Mission every day: Through our exceptional health care services, we reveal the healing presence of God.
In 1956, we opened our doors as the nation's first freestanding Catholic children's hospital, and today we remain the leading faith-based provider of pediatric services in the region:
We provide lifesaving care to all children in need, regardless of ability to pay.
We care for children from Missouri and Illinois, as well as from across the region and around the world.
We are home to physicians trained in more than 60 pediatric subspecialties.
We impact more than 200,000 children and their families each year.
About Scottish Rite for Children
Scottish Rite for Children is one of the nation's leading pediatric orthopedic centers. A wide range of orthopedic conditions are treated, including sports injuries and fractures, as well as certain arthritic, neurological and learning disorders, such as dyslexia. Patients receive treatment regardless of the family's ability to pay. For more information about services available at the Dallas or Frisco campuses, volunteering or donating, visit scottishriteforchildren.org.
About Ronald McDonald House Charities
Ronald McDonald House Charities® (RMHC®), is a non-profit, 501(c)(3) corporation that creates, finds, and supports programs that directly improve the health and well-being of children and their families. Through a global network of over 260 Chapters in more than 60 countries and regions, RMHC enables, facilitates and supports family-centered care through three core programs: the Ronald McDonald House®, the Ronald McDonald Family Room® and the Ronald McDonald Care Mobile®. RMHC programs help families with ill or injured children stay together and near leading hospitals and health care services worldwide, ensuring they have access to the medical care their child needs while fully supported and actively involved in their child's care. For more information, visit rmhc.org. Follow RMHC on Twitter, Facebook, Instagram and LinkedIn.
About Child Crisis Arizona
Child Crisis Arizona exists to provide children and youth in Arizona a safe environment, free from abuse and neglect, by creating strong and successful families. For 46 years, Child Crisis Arizona has responded to community need to both prevent and intervene in child abuse or neglect and strengthen families. Child Crisis Arizona offers emergency shelters for children, group homes for youth in the foster care system; an independent living program for young adults aging out of the foster care system; foster care and adoption services; as well community-wide parenting classes, workshops, support groups and early education programs for low-income families. Through directly distributing essential needs items, they served 2,535 families last year. In 2022, across all programs, the agency served 9,262 unduplicated individuals. Learn more at childcrisisaz.org.