Enterprise Bank & Trust Celebrates 20 Years of Enterprise University With Robust Spring Course Lineup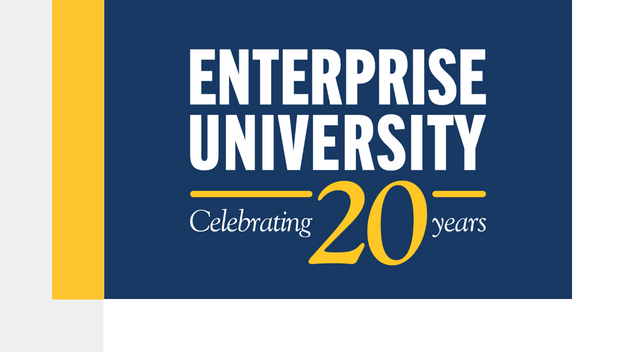 No-Cost Professional Development for Business Leaders and Their Teams
Enterprise Bank & Trust has launched the spring semester of its business training course series, Enterprise University. The courses help professionals think strategically, better their business and build community.
Business professionals anywhere in the country can register for live, virtual classes at www.enterprisebank.com/eu, at no cost to them.
Established in 2003, Enterprise University set out to provide no-cost training courses for business leaders and their teams. Enterprise University has grown into one of the premier business training programs in the country. In its 20-year history, Enterprise University has welcomed more than 33,000 course registrations, representing business professionals across the country who return year after year to continue learning new skills.
More than 30 courses will be offered between March 9 and May 18, covering management and leadership, finance, sales and marketing, human resources and other trending topics. The 90-minute classes are taught by experts in their field who offer actionable strategies and ideas that teams can implement right away to stay ahead in a competitive environment.
Here is a preview of courses offered this spring:
Cybersecurity & Resilience Planning to Prepare for Cyberattacks
Designing a Digital Marketing Strategy for Growth
You Don't Have to Do It Alone: Resources for Minority-Owned Businesses
Increase Your Leadership and Influence by Becoming a Trusted Advisor
Change Management Hacks to Make Your Change Stick
The Authentic Leader: An Introduction to Dare to Lead™
Could Employee Ownership Solve the Turnover Problem?
Identifying Opportunities to Increase Financial Performance
Many business owners incorporate Enterprise University courses into their talent development programs, to provide workforce development and continuous learning opportunities for employees. In addition to spring programming, select Enterprise University courses from previous semesters are available on demand on the Enterprise University website.
About Enterprise Bank & Trust
Enterprise Bank & Trust is a growing financial services partner focused on guiding people to a lifetime of financial success. We empower privately held businesses to succeed, helping families to secure their financial futures, and invest to advance the quality of life for the communities we serve. Enterprise is built on trusted, personal relationships and offers a range of business and personal banking services, wealth management services and a variety of specialized banking services. Enterprise Financial Services Corp (NASDAQ: EFSC), with approximately $13.1 billion in assets, is a financial holding company headquartered in Clayton, Missouri. Enterprise Bank & Trust operates 41 branch offices in Arizona, California, Kansas, Missouri, Nevada and New Mexico, and SBA loan and deposit production offices throughout the country. Additional information is available at www.enterprisebank.com. Member FDIC.