Enterprise Bank & Trust Commits $300,000 in Funding To United Way of Northern New Mexico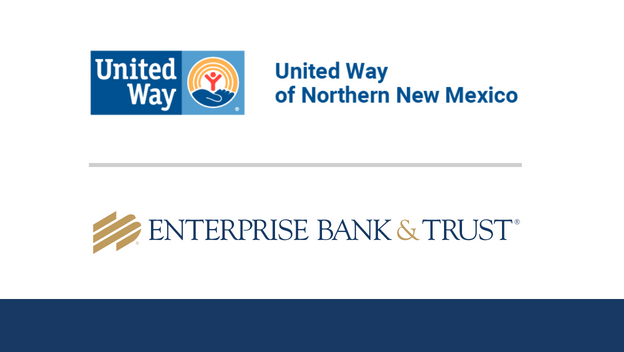 Enterprise Bank & Trust, the banking subsidiary of Enterprise Financial Services Corp (NASDAQ: EFSC), is pleased to announce the commitment of $300,000 to the United Way of Northern New Mexico (UWNNM). The total contribution will be delivered in $100,000 installments over the course of three years.
Representatives from Enterprise and the United Way will come together to celebrate their partnership on Thursday, April 20 from 3-5 p.m., with a check presentation ceremony from 3:30-3:45 p.m. The event will take place in the Student Center Lecture Hall on the campus of the University of New Mexico-Los Alamos.
UWNNM serves organizations committed to supporting education and youth mentorship, behavioral health and parental supports, food and housing and senior transportation. This year's grant recipients include 22 local nonprofits deemed to be working toward collective impact through intentional collaboration.
"This is a wonderful opportunity to collaborate with leaders throughout the region to serve a diverse set of needs for those in our local communities in Los Alamos and Rio Arriba counties," said UWNNM board president and Enterprise President and Director of Community Management Liddie Martinez.
Recipients are identified United Way partners along with other nonprofit or philanthropic organizations. As a community-focused bank, Enterprise embraces the unique opportunity to partner with organizations like UWNNM and support primary pillars of human services, education and job training, community and economic development, and community arts.
"To allot nearly a half million dollars each year, UWNNM relies on the generosity of dedicated donors and partners like Enterprise Bank & Trust," said UWNNM interim executive director Cindy Padilla. "We are blessed to have dedicated business leaders like Liddie involved with our organization, supporting our mission and working toward the betterment of the communities we serve."
About Enterprise Bank & Trust
Enterprise Bank & Trust is a growing financial services partner focused on guiding people to a lifetime of financial success. We empower privately held businesses to succeed, helping families to secure their financial futures, and invest to advance the quality of life for the communities we serve. Enterprise is built on trusted, personal relationships and offers a range of business and personal banking services, wealth management services and a variety of specialized banking services. Enterprise Financial Services Corp (NASDAQ: EFSC), with approximately $13.1 billion in assets, is a financial holding company headquartered in Clayton, Missouri. Ranked No. 3 on Forbes' America's Best Banks 2023 list, Enterprise Bank & Trust operates 42 branch offices in Arizona, California, Kansas, Missouri, Nevada and New Mexico, and SBA loan and deposit production offices throughout the country. Additional information is available at www.enterprisebank.com. Member FDIC.
About United Way of Northern New Mexico
United Way brings people together to build strong communities where everyone thrives. Through United Way, communities tackle tough challenges and work with private, public, and nonprofit partners to boost education, economic solutions, and health resources. UWNNM works with integrity and ethics to ensure inclusivity, respect, and generosity, while honoring family, tradition, and culture. Learn more at www.unitedwaynnm.org.