Enterprise Bank & Trust Ranks No. 3 on Forbes' Annual Best Banks List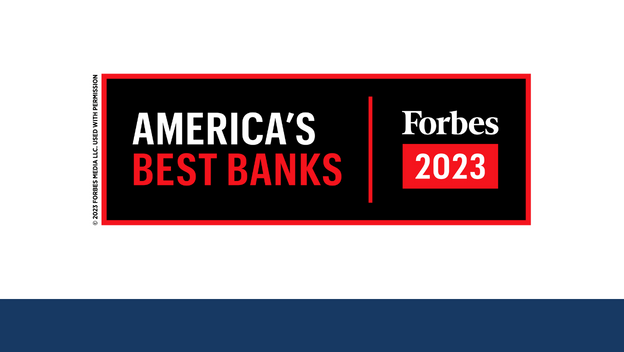 Enterprise Bank & Trust, the banking subsidiary of Enterprise Financial Services Corp (NASDAQ: EFSC), ranked No. 3 on Forbes' 14th annual America's Best Banks list, which uses nine metrics that focus on growth, credit quality and profitability to rank the 100 largest publicly traded banks and thrifts.
Notably, Enterprise was the only bank based in Missouri to rank in the top 30. Enterprise also climbed 32 places from its No. 35 ranking in 2022.
The data used comes from S&P Global Market Intelligence and was submitted on September 30, 2022, and Forbes uses the information to calculate the rankings. The full list and background on methodology can be found here.
"Enterprise continues to grow in a responsible manner to best serve our clients, communities and shareholders," said Scott Goodman, president of Enterprise Bank & Trust. "Our goal is to provide the full range of financial services needed to support businesses of all sizes while not sacrificing our commitment to highly responsive, agile customer service aligning with our community bank roots."
About Enterprise Bank & Trust
Enterprise Bank & Trust is a growing financial services partner focused on guiding people to a lifetime of financial success. We empower privately held businesses to succeed, helping families to secure their financial futures, and invest to advance the quality of life for the communities we serve. Enterprise is built on trusted, personal relationships and offers a range of business and personal banking services, wealth management services and a variety of specialized banking services. Enterprise Financial Services Corp (NASDAQ: EFSC), with approximately $13.1 billion in assets, is a financial holding company headquartered in Clayton, Missouri. Enterprise Bank & Trust operates 41 branch offices in Arizona, California, Kansas, Missouri, Nevada and New Mexico, and SBA loan and deposit production offices throughout the country. Additional information is available at www.enterprisebank.com. Member FDIC.
©2023 Forbes. All rights reserved. Used under license.