Enterprise Bank & Trust Presents Over 300 Christmas Trees to Veterans in Continued Partnership with Local Nonprofit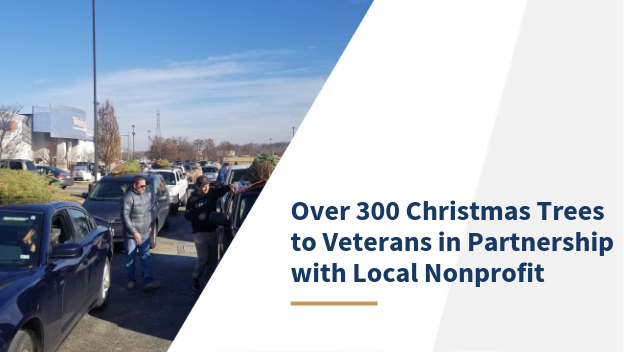 Enterprise Bank & Trust, the banking subsidiary of Enterprise Financial Services Corp (NASDAQ: EFSC), is partnering with the Kaufman Fund to donate 325 Christmas trees to Veterans this holiday season.
Enterprise Bank & Trust, the returning presenting sponsor, will gift the trees on December 9, 2018 at the Enterprise Bank & Trust Manchester location. Veterans, selected by the Kaufman Fund, will receive Christmas trees and stands at no cost this holiday season.
"With the help of our partners, we're able to give Christmas trees and stands to deserving veterans and their families to enjoy the traditions of the holiday season," said Irwin Loiterstein, Treasurer of The Kaufman Fund and Chairman of the Trees for Vets Committee. "We greatly appreciate Enterprise Bank & Trust, Bommarito Automotive Group, the Northwest Chamber of Commerce, the West St. Louis County Chamber of Commerce, St. Patrick's Center, UMSL, USO, Sts. Joachim and Ann and other sponsors and volunteers who made this event possible."
Volunteers will support by coordinating tree deliveries and pick-ups, as well as by providing food and beverages to event attendees. "For the past five years, Enterprise Bank & Trust employees have served over 5,000 volunteer hours annually. We are committed to empowering our community and by supporting local charities, like the Kaufman Fund, everyone has the opportunity to get involved," Scott concluded.
About the Kaufman Fund
Founded in 1990 in honor of Ralph Kaufman, the Kaufman Fund is a nonprofit dedicated to supporting local veterans and their families in need. Over the past 20 years, the Kaufman Fund has raised and distributed over a million dollars. To learn more about the Kaufman Fund, visit: www.thekaufmanfund.org
Contact
Jordan Wilson, Senior Marketing Specialist // (913) 234-6403 // [email protected]