Enterprise Bank & Trust Appoints A. Verona Dorch to Board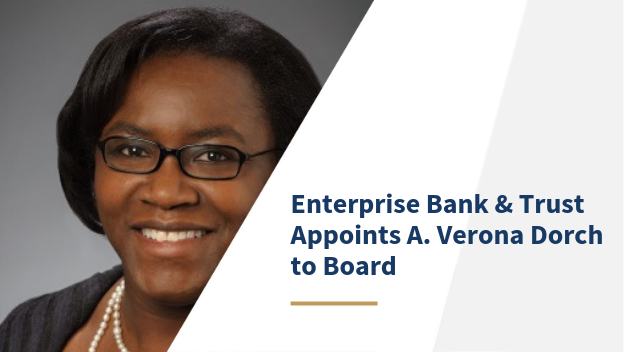 Enterprise Bank & Trust, the banking subsidiary of Enterprise Financial Services Corp (NASDAQ: EFSC), has announced the appointment of A. Verona Dorch to its Board.
A. Verona Dorch is Executive Vice President, Chief Legal Officer, Government Affairs and Corporate Secretary of Peabody, the leading global pure-play coal company and a member of the Fortune 500, serving power and steel customers in more than 25 countries on six continents. The company offers significant scale, high-quality assets, and diversity in geography and products. Ms. Dorch is a member of the company's six-person executive leadership team, which identifies and oversees implementation of the company's key long-term organic and transactional growth initiatives. With expertise in expertise in corporate governance, Board risk oversight, shareholder activism, and crisis and risk management in global markets, she is a key strategic advisor to the Board of Directors and management of Peabody.
Prior to joining Peabody, Ms. Dorch served in increasingly senior roles at Harsco Corporation, a diversified industrial services company, over a nine-year period. She holds a Bachelor of Arts degree in Sociology from Dartmouth College and a Juris Doctor degree from Harvard Law School, where she was a member of the Harvard Legal Aid Bureau.
Ms. Dorch is a member of the Board of Directors of Girls Inc. (St. Louis) and Board of Directors of United Way (St. Louis). She has been named to Black Enterprise Magazine's 2018 300 Most Powerful Executives in Corporate America List, among the 2018 Most Influential Black Lawyers list by Savoy magazine, and was shortlisted by the Financial Times in 2016 for two honors: Most Innovative Legal Team and Most Innovative General Counsel. She is also a Fellow of the American Bar Foundation.
Contact
Investor Relations
Keene Turner, Executive Vice President and CFO // (314) 512-7233 // [email protected]
Media
Jordan Wilson, Senior Marketing Specialist // (913) 234-6403 // [email protected]