Market Flash Report | June 2021
Economic Highlights
United States
After growing by 6.4% in Q1 2021, the U.S. economy is expected to see GDP growth of 9.5-10% (annualized) in Q2. Estimates are forecast to decline to 7.5-8% in Q3 and around 6% in Q4. For 2021, economists continue to expect GDP growth around 7%.
Manufacturing activity in the U.S. softened slightly last month. The ISM Manufacturing Index declined from 61.2 in May to 60.6 in June. Production and prices strengthened, but new orders, employment and supplier deliveries weakened. The ISM Services PMI also dropped from 64 in May to 60.1 in June. The key components, business activity, new orders and employment, all weakened last month. Businesses continue to cite supply chain shortages and a lack of skilled workers as major concerns.
Inflation continues to surge globally, but we continue to believe that the surge is transitory, and due to supply chain bottlenecks associated with the unprecedented global economic shutdown. We also believe economic activity in the U.S. peaked during Q2 as many key data points are starting to roll over. CPI surged over 5% last month or 3.8% when removing food and energy. PCE readings were a bit lower, but all eyes are on the Fed as they navigate this key time for the economy.
Non-U.S. Developed
After contracting in Q1, the eurozone economy is expected to rebound in Q2 and (especially) in Q3. Q1 was marked by renewed lockdowns and restrictions for the region as they dealt with a fourth wave of COVID-19 and a botched vaccine campaign. That has corrected itself and the region is in the midst of its economic resurgence, similar to what the U.S. experienced in the first half of the year. The eurozone is expected to post GDP growth of approximately 5% for the full year 2021. The U.K. should grow 8% in 2021.
The eurozone private sector economy expanded at its fastest rate in 15 years during June, underpinned by surging levels of output across both manufacturing and service sectors. The latest strengthening of the index reflected a marginal improvement in growth of manufacturing output (and to a rate that was close to March's survey record) as well as an improvement in service sector expansion to its best since mid-2007. The eurozone economy shifted into high gear in June, but so did inflation.
Emerging Markets
EM growth expectations continue to surpass those of developed markets. China is forecast to grow 8.5% in 2021, India is expected to grow more than 9% this year, and Brazil's economy should rebound 5.5%. Other countries in Asia should see similar strong growth, while areas of Latin America and Eastern Europe are projecting strong economic rebounds.
While many EM countries have struggled with COVID-19 and face limited inoculation campaigns, the thesis remains intact that earnings and economic growth should be higher than the developed world. We continue to like emerging markets as an asset class but have tempered our view a bit due to the magnitude and importance of China on the rest of EMs. China is a huge driver of benchmark performance, and we think ongoing tensions with the U.S. and other western countries could have an impact on EM performance moving forward.
Market Performance (as of 6/30/21)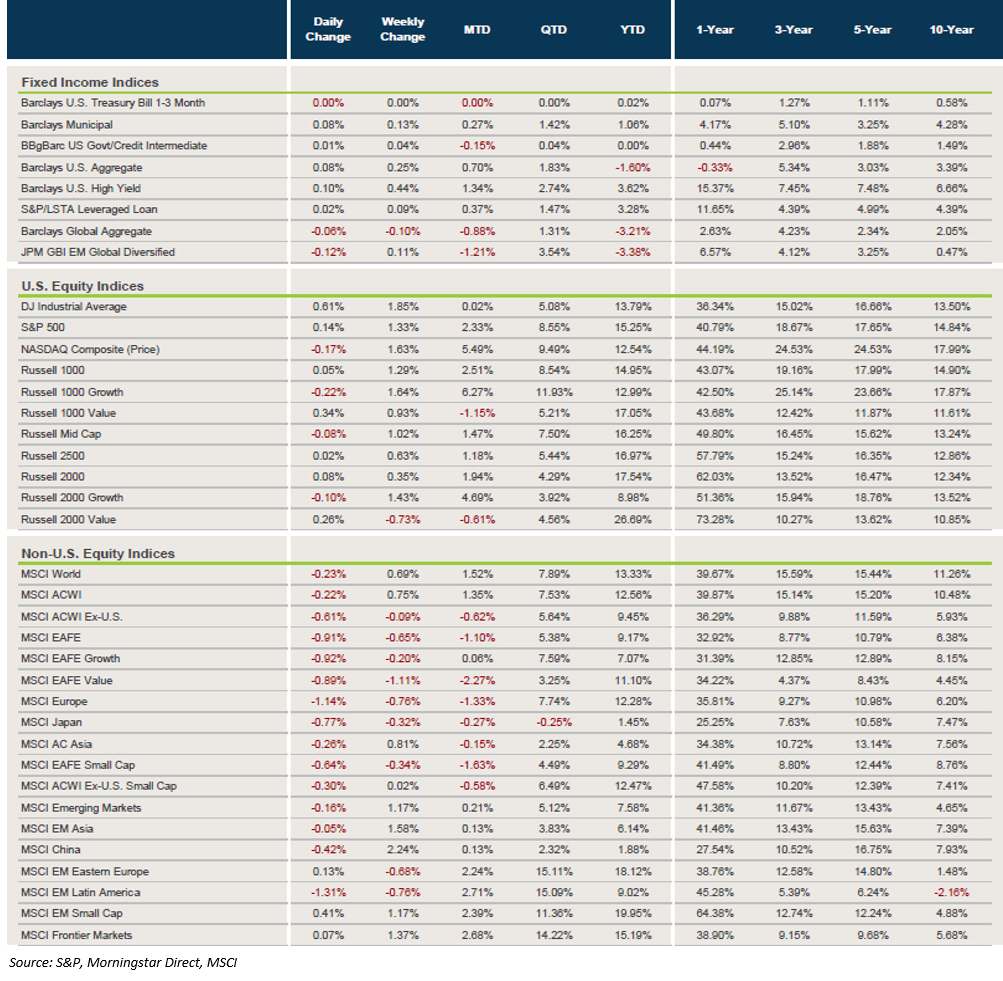 Fixed Income
Treasury/sovereign debt yields fell in June, but the stronger USD was a headwind for non-U.S. assets. Credit spreads also tightened in June, boosting riskier fixed income such as high yield and floating rate loans.
U.S. Equities
U.S. equities were mostly positive across the board last month, led by a return of growth/momentum stocks.
Large cap stocks outperformed small caps and growth trounced value for the first time in several months.
Many technology and other secular growth winners from 2020 led markets higher after lagging for much of 2021.
Non-U.S. Equities
June was a rough month for non-U.S. equities as the U.S. dollar appreciated versus most other developed and emerging market currencies.
Similar to what occurred in the U.S., growth stocks beat value stocks, and large caps outperformed small caps.
EMs eked out a small gain in June led by a rebound in Latin America and Eastern Europe. EM small caps also beat EM large caps.
S&P 500 (as of June 30, 2021)
Russell 2000 (as of June 30, 2021)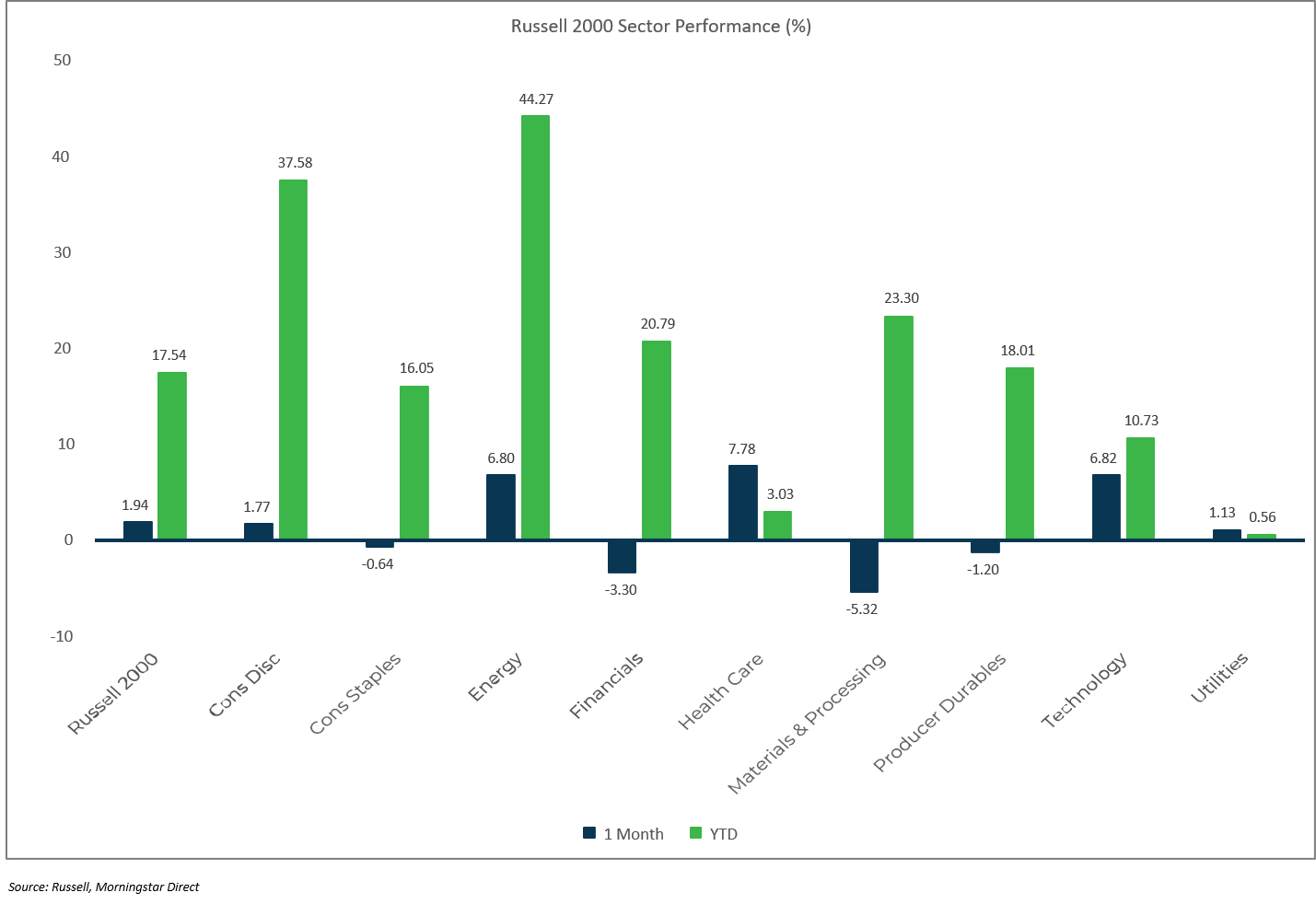 MSCI EAFE (as of June 30, 2021)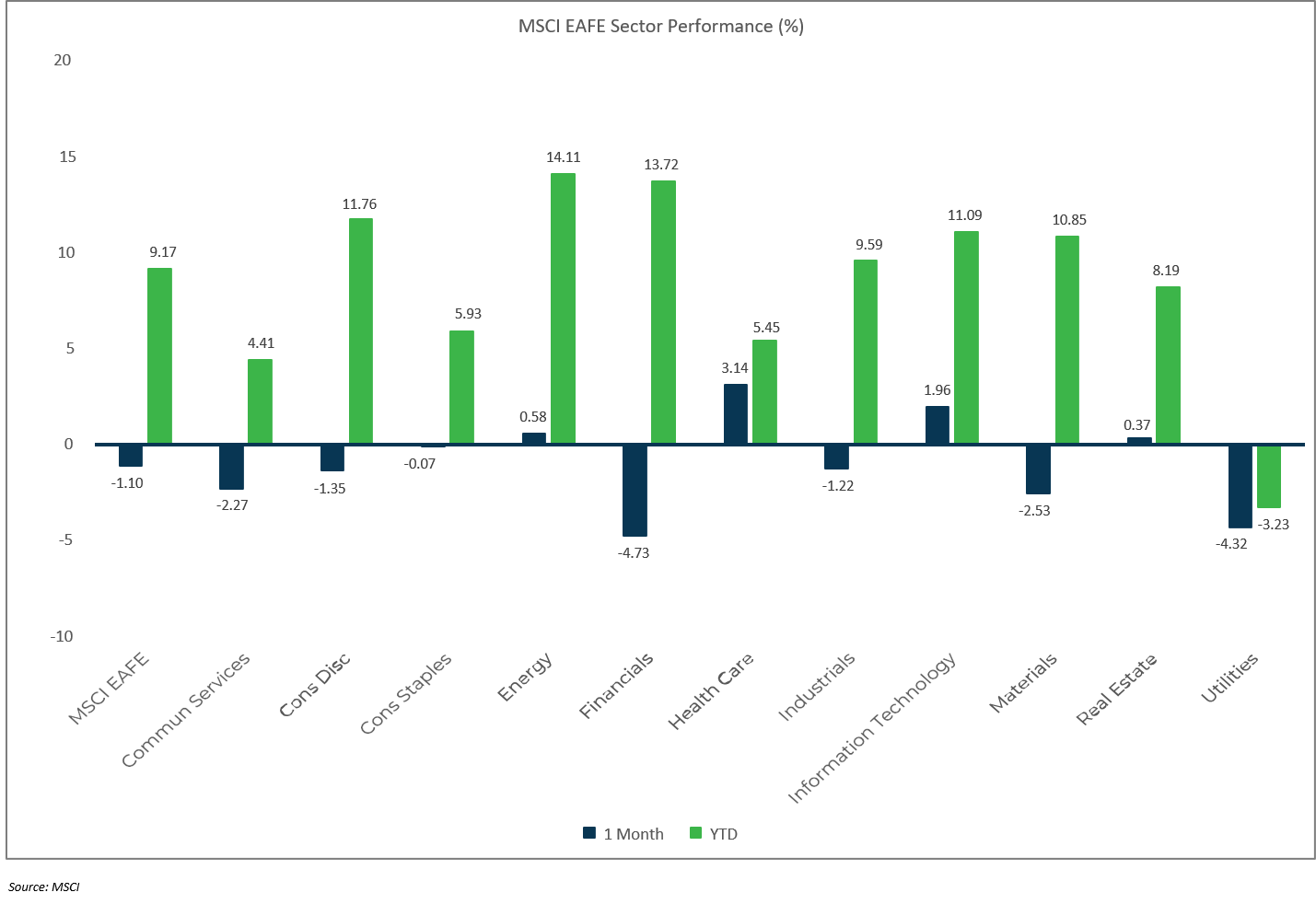 MSCI EM (as of June 30, 2021)