Market Flash Report | May 2021
Economic Highlights
United States
After growing by 6.4% in Q1 2021, the U.S. economy is expected to see GDP growth of 9.5-10% (annualized) in Q2. Estimates are  forecast to decline to 7.5-8% in Q3 and around 6% in Q4. For 2021, economists continue to expect GDP growth around 7%.
Manufacturing activity has gathered steam globally in recent months, led by strength from the U.S. The ISM Manufacturing Index rose to 61.2 in May from 60.7 in April. New orders strengthened while employment and production softened. The price component also backed off a bit, which is positive for inflation trends. Similar to the service sector, businesses continue to cite labor shortages and surging input/raw material prices as concerns.
Inflation remains a real concern for consumers and financial markets with breakeven rates surging higher due to supply chain shortages and the economic reopening. CPI headline inflation topped 4% in April with core inflation jumping 3% Y/Y. Core PCE inflation topped 3% Y/Y in April. A key risk to markets and the economy is the prospect of sustained higher inflation and higher interest rates.
Non-U.S. Developed
The eurozone economy contracted in Q1 2021 as countries implemented new lockdowns and restrictions amid a third wave of coronavirus infections. GDP fell 0.6% Q/Q with weakness in Germany, Italy, Spain and Portugal. France bucked the trend with surprise growth of 0.4%. The Q1 weakness was largely expected with the eurozone's botched vaccine rollout, but recent data suggest a strong rebound in Q2.
Based on the May composite PMI, manufacturing and service activity rebounded sharply in May. The new orders component hit its highest level since 2006. The composite PMI rose from 53.8 in April to 56.9 in May. Manufacturing sits at a very strong level of 62.8 while services shot up to 55.1 in May from 50.5 in April. Business activity is strong and companies continue to highlight a gap between supply and demand due to global shortages.
Despite a strong vaccination campaign, the U.K. economy fell 1.5% Q/Q in Q1. Household and business consumption was weak.
Emerging Markets
According to recent S&P data, emerging markets are forecast to grow 7.1% in 2021 or 6.4% when excluding China. EM Asia is expected to see the highest growth (+8.3%) followed by LatAM (+4.5%) and EM EMEA (+3.7%). S&P expects 4-4.5% GDP growth for EMs from 2022-2024.
We continue to have a positive view of EMs despite some major challenges facing countries like India and Brazil. It appears as if the worst of the recent COVID-19 surge is over, but with slow vaccination rates in EMs, it is impossible to know if there is light at the end of the tunnel. We favor EM Asia over other regions, but recognize the attractiveness of the asset class lies with its stronger anticipated earnings and economic growth expectations along with the prospect of a weaker U.S. dollar. A main risk to our thesis is runaway inflation that leads to the Fed/central banks becoming hawkish.
Market Performance (as of 5/31/21)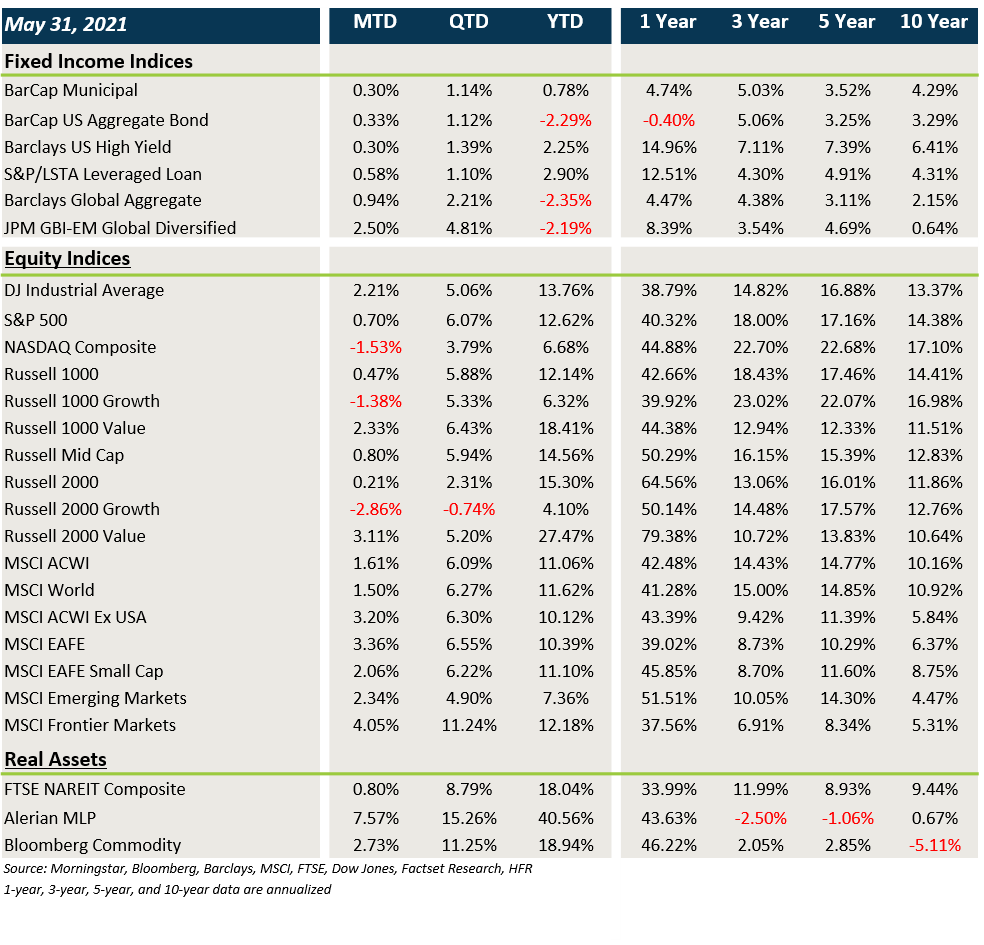 Fixed Income
Treasury/sovereign debt yields fell slightly in May, leading to gains across core fixed income and municipal bonds. Spreads grinded tighter across most credit sectors and U.S. dollar weakness boosted non-U.S. asset prices.
U.S. Equities
U.S. equities posted mostly positive gains in May, except for the Nasdaq and growth stocks.
Value stocks beat growth stocks last month with sharp dispersion between small cap value and small cap growth.
Large caps outpaced small caps by a slight margin and the worst performing sectors were consumer discretionary and technology.
Non-U.S. Equities
Non-U.S. equities out-performed U.S. equities last month, boosted by USD weakness.
Europe outpaced Japan within developed markets and Eastern Europe and Latin America were the best performing EM regions.
U.S. dollar weakness boosted EM returns by about 100 bps and EAFE returns by 118 bps.
S&P 500 (as of May 31, 2021)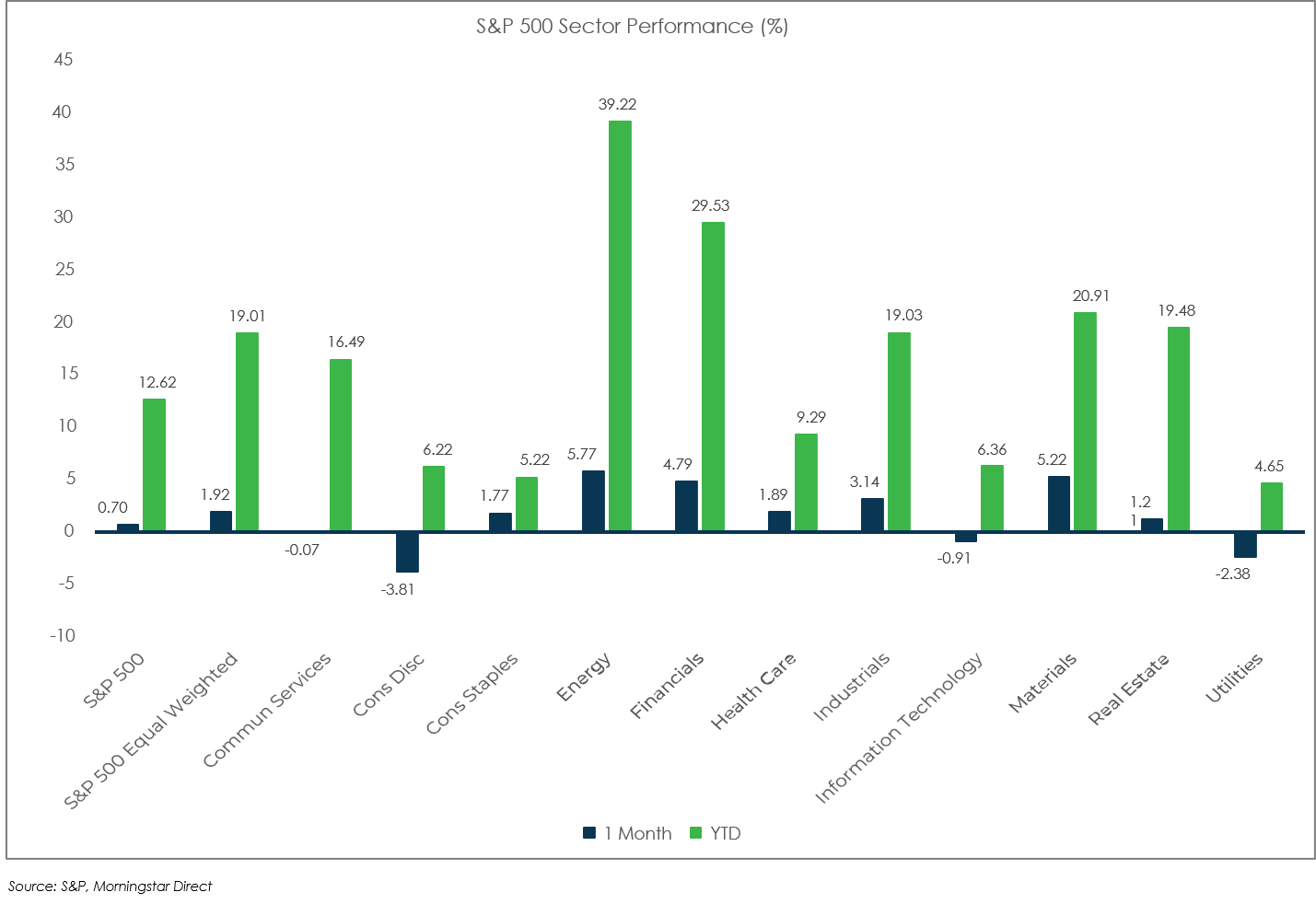 Russell 2000 (as of May 31, 2021)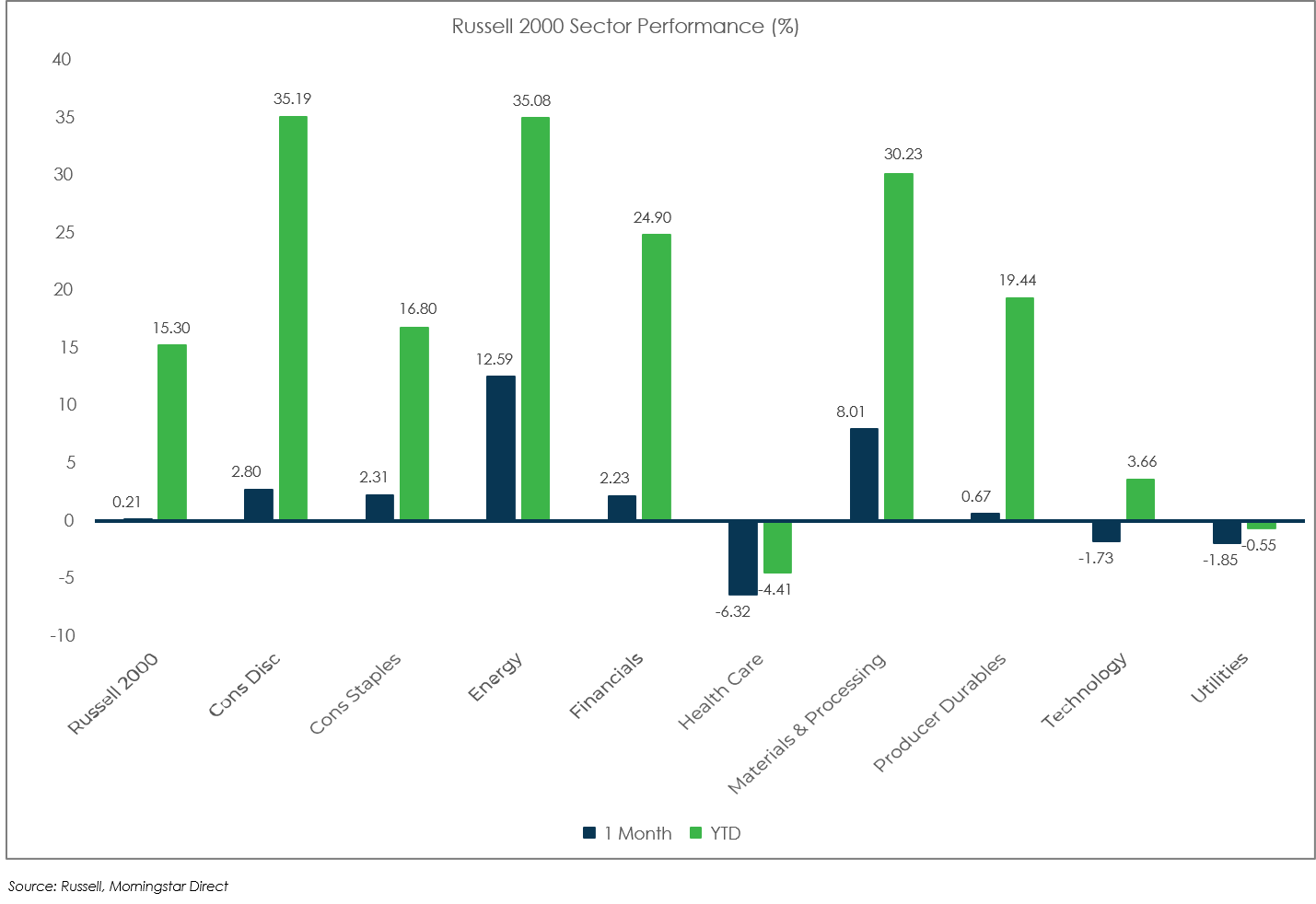 MSCI EAFE (as of May 31, 2021)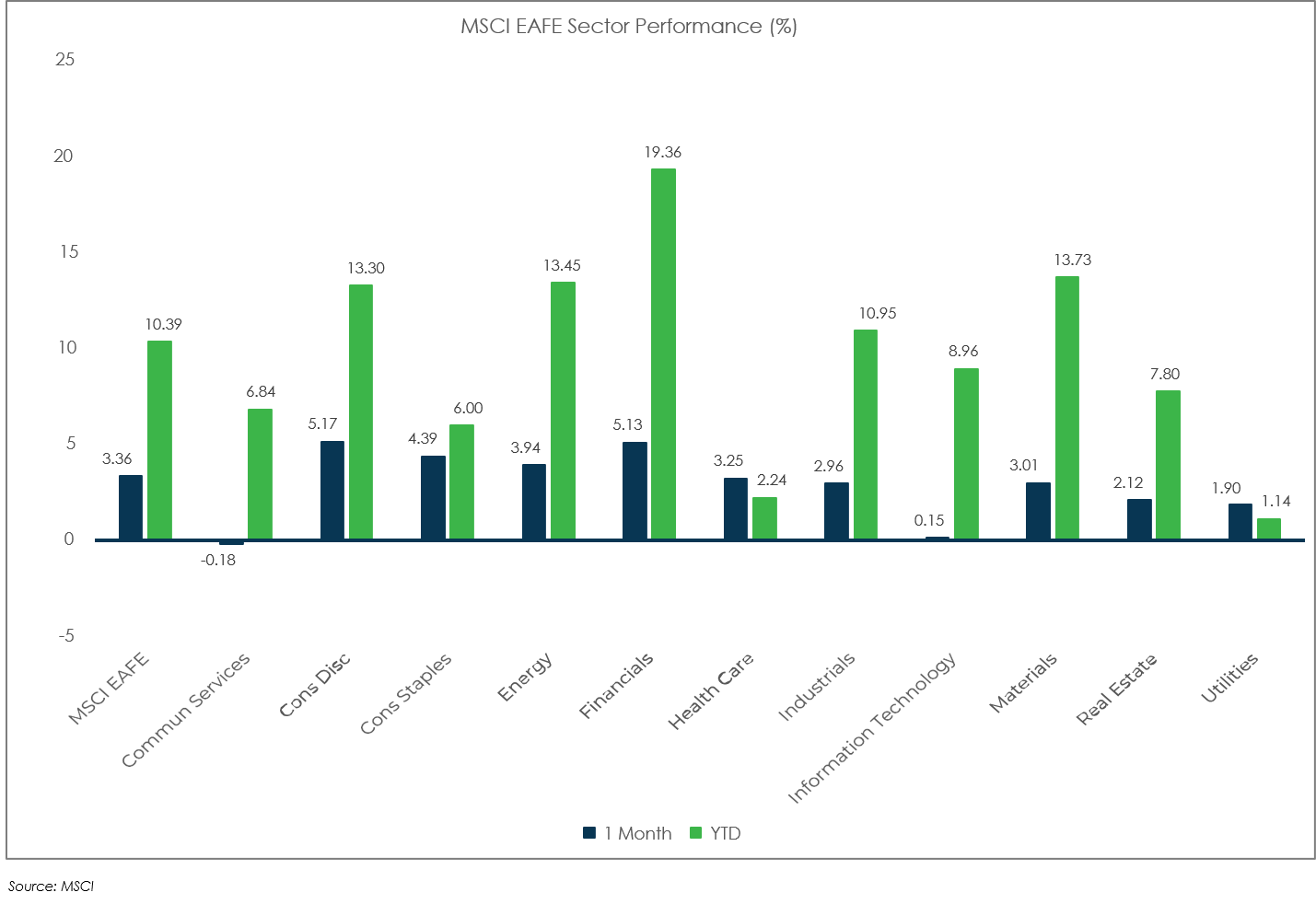 MSCI EM (as of May 31, 2021)