Enterprise Bank & Trust Promotions in Kansas City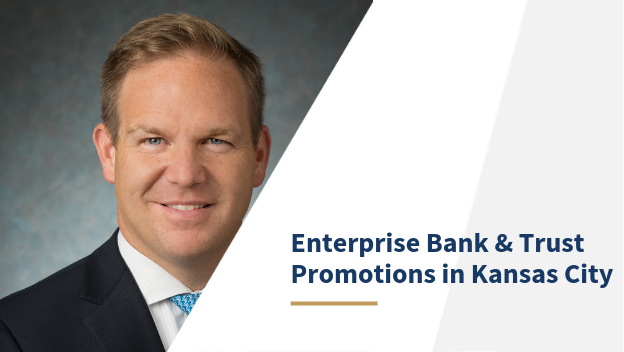 Enterprise Bank & Trust has named Scott Coup Director of Commercial Sales and Jeff Carson President of the Kansas City Region.
This announcement comes as the bank implements an organizational adjustment that introduces Coup's newly developed role. As Director of Commercial Sales, Coup will oversee regional sales leaders in St. Louis, Kansas City and Phoenix to empower their teams with skills, training, and messaging.
As Regional President, Carson will work throughout the Kansas City community to cultivate client relationships. He will lead the bank's commercial team, including the C&I, CRE, and Treasury Management, and support the region's continued expansion. Carson will also lead the effort to direct the bank's resources in the market and the region to address local priorities and help build strong communities.
Coup, who served most recently as President of the Kansas City Region, joined Enterprise Bank & Trust in 2010. During his time at the bank, he has held several roles including Senior Vice President, Relationship Manager and President of Business Banking.
Prior to Carson's appointment as president, he served as Senior Vice President, Relationship Manager and, most recently, Director of the region's Commercial & Industrial Banking division. He joined the bank in 2014 and has been in commercial banking in the Kansas City market for nearly 20 years.
Along with Coup & Carson's appointments, Kevin Antes's promotion to Regional Senior Lender has been a key addition to senior credit personnel. Since joining the bank in 2011, Antes has been a part of the Enterprise Value Lending division as Vice President and Senior Vice President.
CONTACT
Jordan Wilson, Senior Marketing Specialist // (913) 234-6403 // [email protected]