Enterprise Bank & Trust Announces Leadership Promotions in the St. Louis Market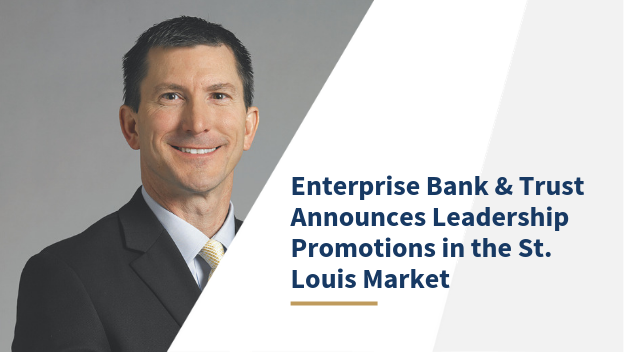 Enterprise Bank & Trust, the banking subsidiary of Enterprise Financial Services Corp (NASDAQ: EFSC), has announced key promotions within its St. Louis region and specialized banking leadership teams.
The announcement marks the promotions of Doug Bauche, John Meek, Joe Mark, Jason Koelling, Kristy Hess, Matt Kakta and Abby Kepple.
Doug Bauche has been named President of the St. Louis market, which is comprised of the North and South Regions. In addition to his current role as Chief Credit Officer, Bauche will provide cohesive strategic leadership in the bank's largest market.
John Meek will lead the North Region as President, overseeing the region's commercial and industrial and real estate lending teams. Steve Albart will continue to lead the South in his role as President, South Region. Additional changes in the St. Louis region include the promotions of Joe Mark and Jason Koelling to Vice President & Team Lead, and Kristy Hess to Senior Vice President &Team Lead-Commercial Real Estate.
Meg Schneithorst will continue as President of the bank's expanding national practice, Specialized Banking, taking on several additional specialty deposit and lending areas. Included among these are Correspondent and Agricultural Banking, led by Tim Barringhaus. Also within the Specialized Banking group, Matt Kakta is promoted to Managing Director, overseeing the Enterprise Value Lending, Aircraft Finance, and Asset Based Lending teams.
Finally, Abby Kepple has been promoted to President of Tax Credit Specialties and Premium Finance, expanding her scope of responsibility and providing additional expertise to support strong growth in these lines of business.
Contact
Jordan Wilson, Senior Marketing Specialist // (913) 234-6403 // [email protected]