Enterprise Bank & Trust Receives an Outstanding Partner Award from Prosperity Connection for Our Financial Commitment and Education Support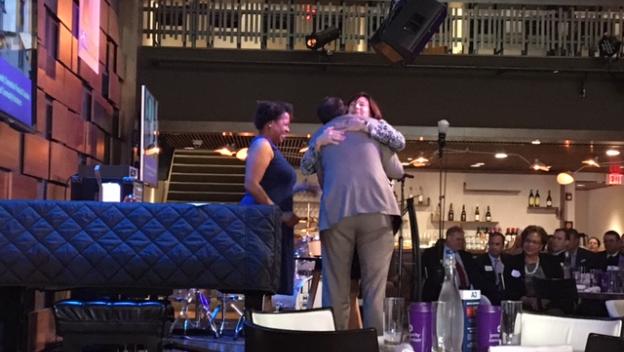 Enterprise Bank & Trust, the banking subsidiary of Enterprise Financial Services Corp (NASDAQ: EFSC), received an outstanding partner award from Prosperity Connection® for our financial commitment and education support.
Prosperity Connection awarded three corporations along with three individuals the special recognition and distinction at a breakfast ceremony on Wednesday, July 19, 2017. "Prosperity Connection's mission of financial inclusion and empowerment relies upon strong partnerships with volunteers, foundations, corporations and financial institutions. Enterprise Bank & Trust has stepped up to assist our organization on many fronts, not the least of which is our fight against predatory payday and title lenders. The $500,000 line of credit we were able to open through the bank has given our operations the capital needed to meet the short-term loan needs of economically vulnerable St. Louisans. We can't do this work alone. Thankfully, we have Enterprise Bank & Trust as a valued partner!" said Paul Woodruff, the Executive Director for Prosperity Connection.
Prosperity Connection is a 501(c)3 whose mission is to strengthen the St. Louis region by providing financial education, affordable financial services, resources and support to low- to moderate-income populations in an effort to improve their standard of living and better their lifestyle. Some of their services include low-cost check cashing, short-term loans, bill pay and reloadable debit cards to those who cannot qualify for a bank account or choose to not go to traditional banks.
In March, Enterprise Bank & Trust announced a Community Benefits Agreement with a group of nonprofit organizations to commit $1.8 billion over a three-year period in investments for low-income and minority neighborhoods and their residents in St. Louis and Kansas City. This is an ambitious, voluntary program that the group of nonprofits with which we work consider to be groundbreaking. "In our three-year plan, we aim to have a substantial impact on thousands of people and the overall quality of life in our community. Partnerships with non-profits like Prosperity Connection make our efforts a reality, and we are thankful for the work they do every day," concluded Robyn.