2020 Year in Review | Sponsor Finance
All Hands on Deck
Given the obvious COVID-19 related challenges in 2020, our Sponsor Finance team is very pleased with what we accomplished last year: from PPP loans, to portfolio risk assessment and response, to adapting to a fully virtual diligence environment, to MSLP transactions and much more. We are especially proud of how our team responded to the difficulties faced and the resulting opportunities that were presented in 2020. In just the fourth quarter, we managed to close and fund almost $80MM, including two deals we signed up the first week of December. We look forward to continuing the strong momentum in 2021.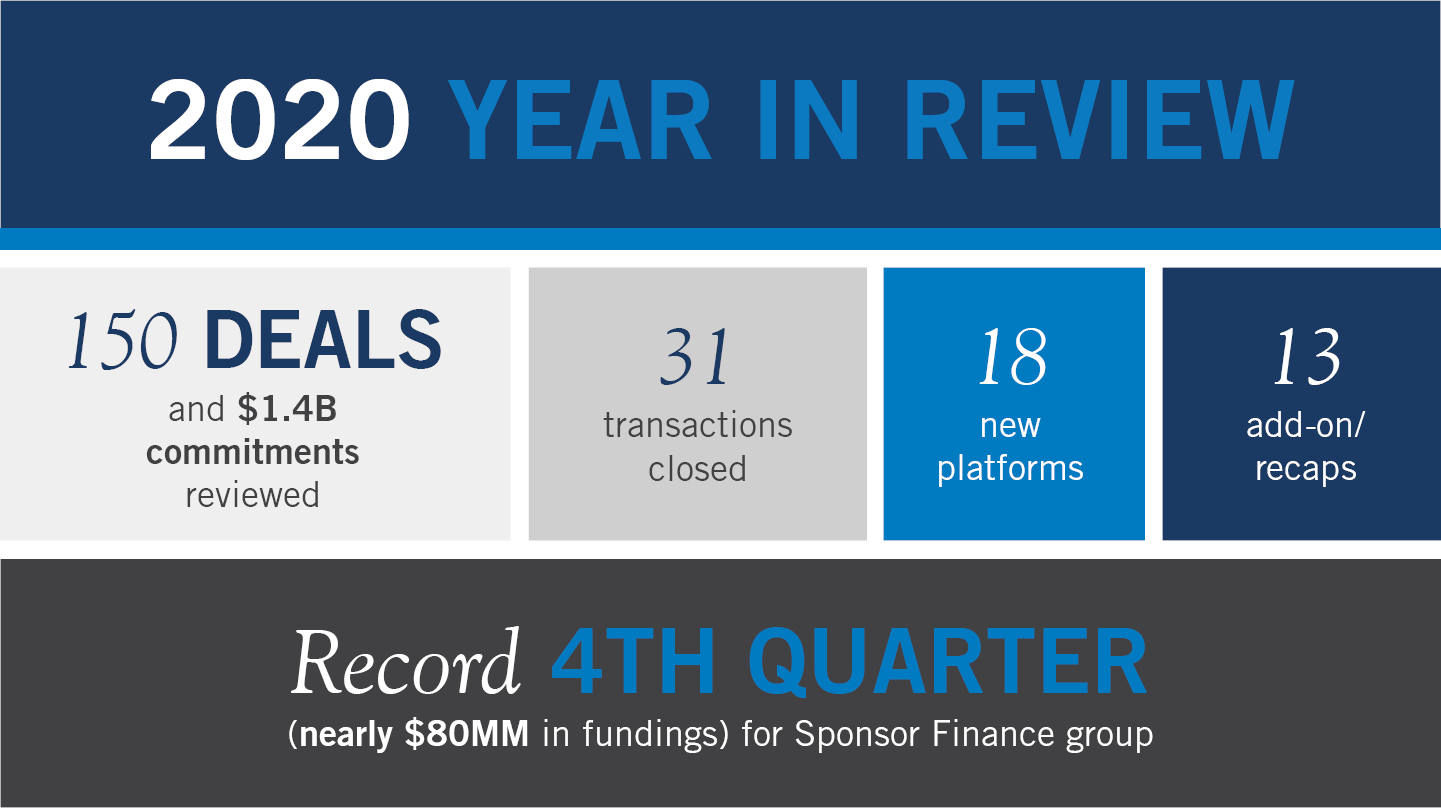 The Lower Middle Market and Sponsor Finance
Based upon the deals we reviewed last year, our Sponsor Finance team compiled the following information for 2020:
While not yet back to pre-pandemic levels, deal activity picked up dramatically since August, specifically related to pent-up demand for new platforms.
Valuation multiples became more volatile in Q2 and Q3 as a result of COVID-19 due to wider-ranging speculation, however settled down in Q4 due to greater demand for "down the fairway" transactions.
Transaction structures materially shifted to include less cash consideration at close, with the delta comprised primarily of earn-outs, escrow holdbacks and tail payments.
Greater emphasis placed on sponsors' cash equity contribution, with most deals requiring at least 30% cash investment exclusive of seller rollover.
Capital Markets Outlook for 2021
Despite a massive slowdown in economic activity, a huge spike in unemployment, and a contentious general election in the US, equity markets did tremendously well in 2020. Here are some key takeaways:
Global equity markets plunged more than 30% in February and March, but finished up for the year.

International Large Cap stocks were the laggard in 2020, finishing the year up by about 8%.

Fixed Income markets also posted strong gains in 2020.

Unhedged International Fixed Income posted the strongest gains, up more than 10% in 2020.

As markets have already priced in a return to some version of "normal" already, investors should be prepared to see some new "winners" across capital markets. 
Read more about the themes to lookout for in 2021 and more in our full Capital Markets Playbook for Q1*.
Recent Transactions
$11,500,000
Senior Debt

Acquisition
TX-Based Equity Sponsor;
TX- & MO-Based Mezz Sponsors
Dallas, TX

$16,700,000
Senior Debt

Acquisition
NC-Based Equity Sponsor;
NC-Based Mezz Sponsor
Slidell, LA

$9,100,000
Senior Debt

Add-On Acquisition
CA, PA & MA-Based Equity Sponsors;
PA & MA-Based Mezz Sponsors
Mcallen, TX

$16,500,000
Senior Debt

Acquisition
IA- & NC-Based Equity Sponsors; 
Powells Point, NC

$41,745,000
Senior Debt

Add-On Acquisition
MA-, MO- & NC-Based Equity Sponsors;
MO- & NC-Based Mezz Sponsors
Sykesville, MD

$10,00,000
Senior Debt

Acquisition
TN- & TX-Based Equity Sponsors;
TN- & TX-Based Mezz Sponsors
Las Vegas, NV
Start a Conversation
Are you ready to get started on an opportunity with an existing investment or new platform?
Fill out the form and a member of our dedicated team will reach out to you soon.